Top of Page
Sermons From the Unwelcome and the Saturnine Malediction (2007) Be Not Idle In Preparation Of Thy Doom (BNIIPOTD)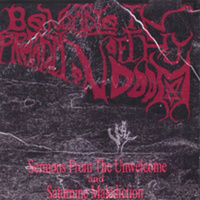 The following audio file formats are included with purchase:
FLAC:

16/44,100

MP3:

192 kbps (VBR)

Apple Lossless (ALAC) and WAV files provided, too!
350 x 350 pixel album cover included with any song purchase.
About this Album
The debut album, Sermons From the Unwelcome recorded in May 2006, is an exploration of what might lie ahead in a world that has long accepted its own demise and of those that may still inhabit it. Cold, distant soundscapes, with occasional hell-inspired vocal assaults challenge the listener to embrace the barren and reflect upon its ugliness before it all comes to an end, abrupt in its clarity.
Obsessed with noise, depression, and all the negative aspects of life, expect nothing cheerful.

In February 2007 a further 3 recordings came into being. These 3 tracks collectively became "The Saturnine Malediction" EP. This EP was packaged together with the Sermon's album for a ltd release of 250 copies.