Top of Page
Virtual Music (Tunings) (2011) Catrina Daimon Lee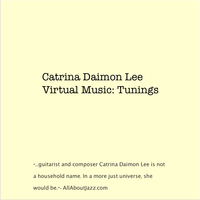 The following audio file formats are included with purchase:
FLAC:

24/44,100

MP3:

192 kbps (VBR)

Apple Lossless (ALAC) and WAV files provided, too!
PDF liner notes ("CD booklet") included with full album purchase.
679 x 680 pixel album cover included with any song purchase.
About this Album
From The Liner Notes:

Catrina Daimon Lee Virtual Music:Tunings

"Lo, I or you,?Or woman, man, or state, known or unknown,?We seeming solid wealth, strength, beauty build,?But really build eidolons".- Walt Whitman
Eidolon Suite for various virtual ensembles conceived in La Monte Young's 7 Limit Just Intonation ('Well-tuned Piano" tuning), reference A=432.

Breath Of Fire for solo Euphonium, in memory of Lou Harrison, was conceived in Pythagorean Tuning, reference pitch A=432.

Circumambulatory Migrations for chamber ensemble (piccolo, flute, clarinet, bass clarinet, violin, cello, & piano) in Nigel Taylor's Circulating Balanced Tuning with A=432.

I decided to include a 12ET version of Circumambulatory Migrations, in the A=440hz standard for you to consider and compare with. 12ET refers to the present day 12 equal spaced interval tuning for musical instruments in common practice.