Top of Page
Red Roots (2011) Red Roots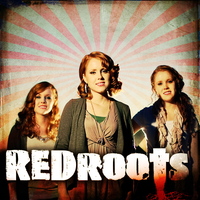 The following audio file formats are included with purchase:
FLAC:

16/44,100

MP3:

192 kbps (VBR)

Apple Lossless (ALAC) and WAV files provided, too!
632 x 648 pixel album cover included with any song purchase.
About this Album
Our first CD release with Red Hen Records is NOW available for order through our website if you click this link: theRedRoots.com/store . So what is the CD like? It has 10 songs on it each having their own sound but possessing what we call the Red Roots style. Well, what's the Red Roots style? Easy! It's a blend of modern country with a grassy twist. The songs highlight our 3 part harmony and the instruments we play like the guitar, banjo, and violin. Also, the songs each have a special message of their own. Some focus on subjects ranging from the need of God in our lives while others focus on the fulfillment of Him in our lives. The CD features our current radio single "Red Roots," which is sung and performed in our music video, which you can view if you click this link: theRedRoots.com/videos . Nika, Nicole, and I are definitely EXCITED about singing and playing these songs live in concert. We feel that this new line-up will allow us to have fun, praise God, and express His message. Thanks to those who support us and for keeping in touch!