Top of Page
I Hate You Rock'n'Roll (2010) Mikirurka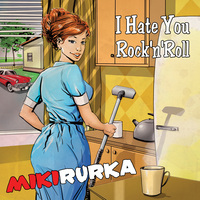 The following audio file formats are included with purchase:
FLAC:

16/44,100

MP3:

192 kbps (VBR)

Apple Lossless (ALAC) and WAV files provided, too!
PDF liner notes ("CD booklet") included with full album purchase.
1535 x 1535 pixel album cover included with any song purchase.
About this Album
The long awaited full length debut album "I Hate You Rock'n'Roll" is out now!
The record was produced by Mikirurka, engineered by Greg Toma at Studio Centrum, Cracow, Poland and Krzysztof Godycki at Studio Chinook, Debica, Poland.
The album was mixed and mastered by Jacek Milaszewski at Chimp Studio, Wroclaw, Poland. The cover art was made by Marcin Nowakowski, whose mainly known for his contributions to "Episodes from Auschwitz" comic book.