Top of Page
The New Number 2 (2010) Do Not Forsake Me Oh My Darling (DNFMOMD)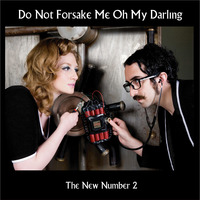 The following audio file formats are included with purchase:
FLAC:

16/44,100

MP3:

192 kbps (VBR)

Apple Lossless (ALAC) and WAV files provided, too!
1433 x 1430 pixel album cover included with any song purchase.
About this Album
Do Not Forsake Me Oh My Darling is a duo fronted by Sophia Cacciola (drums/vocals), with Michael Epstein (also of The Motion Sick, on bass). We're loud, arty, minimalist rock working in the realm of proto-punk/new wave/no wave bands and dark songwriters like Joy Division, Einsturzende Neubauten, The Velvet Underground, Sonic Youth, Diamanda Galás, Nina Hagen, Teenage Jesus and the Jerks, Nick Cave and the Bad Seeds, PJ Harvey, and Leonard Cohen. Our recent EP, The New Number 2 contains the first five songs of a project to write and record 17 songs, each one based on/inspired by an episode of the '60s cult spy-fi TV series The Prisoner. The record also features a cover of Leonard Cohen's "First We Take Manhattan." The Prisoner is an allegorical science fiction show about breaking free from societal norms and maintaining individuality under the thumb of faceless hierarchy and big-brother style totalitarianism. We thought these were interesting and always-relevant themes to work with, and of course, particularly compelling in the modern political climate.