Top of Page
September (2009) Gally's Folly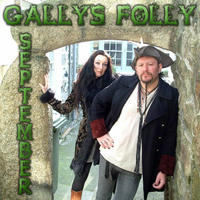 The following audio file formats are included with purchase:
FLAC:

16/44,100

MP3:

192 kbps (VBR)

Apple Lossless (ALAC) and WAV files provided, too!
360 x 360 pixel album cover included with any song purchase.
About this Album
The acoustic-based duo are back with this fantastic 5 track EP.
All the songs have been tried and tested many times as the band have toured the country playing their lively folk. Being joined on the fiddle by the brilliant Elly Lucas of The Ivy Frame adds a new dimension, from the energy of 'Bad Blood' to the haunting tour of old London in 'Ghosts of Soho'.
Superb in every way.