Top of Page
Slappin' The Mud (2010) Lazy Boy and the Siestas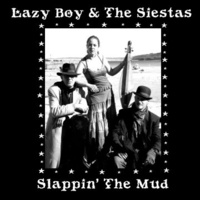 The following audio file formats are included with purchase:
FLAC:

16/44,100

MP3:

192 kbps (VBR)

Apple Lossless (ALAC) and WAV files provided, too!
PDF liner notes ("CD booklet") included with full album purchase.
360 x 360 pixel album cover included with any song purchase.
About this Album
Rob McGeorge (Mr. Moon, The Thieving Gypsy Bastards) is joined by the brilliant Tom Dale for an all new album of folk songs. Featuring an array of instruments from the usual guitars through to banjos and even dulcimers this album gives a new spin on the classic folk theme. From old English tunes to up-beat American 'grass' this album is without doubt the most accomplished so far.