Top of Page
MEGAPHONE DIPLOMACY (2009) OjOutLaw (Dan O'Brien and the OjOutLaw band)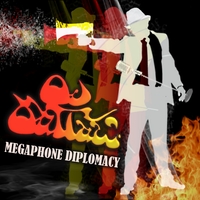 The following audio file formats are included with purchase:
FLAC:

16/48,000

MP3:

192 kbps (VBR)

Apple Lossless (ALAC) and WAV files provided, too!
PDF liner notes ("CD booklet") included with full album purchase.
1500 x 1500 pixel album cover included with any song purchase.
About this Album
Debut international album release by the OjOutLaw band. 2009
recorded at Hellbound Studios, Melbourne and venues across North East Victoria.
Full 24Bit remaster from the original mix recording tapes 2019.