Top of Page
Balloon Proportions (2009) Ryan Novak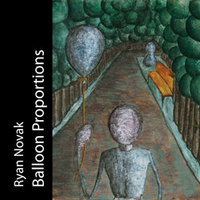 The following audio file formats are included with purchase:
FLAC:

16/44,100

MP3:

192 kbps (VBR)

Apple Lossless (ALAC) and WAV files provided, too!
250 x 250 pixel album cover included with any song purchase.
About this Album
Balloon Proportions is the result of years of personal work in the home studio. I played all the instruments with the exception of a very few samples and some crafty manipulations. Genres and instruments vary widely (a borrowed cello and violin even inspired a "string quartet"), but a process of making compositions out of more or less randomly combined improvisations is consistent throughout the album. The sometimes heavily edited pieces are both highly structured and spontaneous, painstakingly precise and sloppy as hell, taking on whatever forms they seemed to suggest. Modern "classical," phony ethnic music, and off-kilter rock/blues reminiscent of Captain Beefheart resulted, along with other less easily defined structures.