Top of Page
Megaphone Diplomacy (Dan O'Brien and the OjOutLaw band) (2009) OjOutLaw (Dan O'Brien and the OjOutLaw band)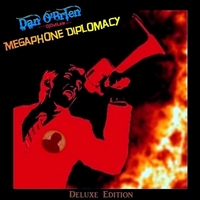 The following audio file formats are included with purchase:
FLAC:

16/44,100

MP3:

192 kbps (VBR)

Apple Lossless (ALAC) and WAV files provided, too!
PDF liner notes ("CD booklet") included with full album purchase.
1000 x 1000 pixel album cover included with any song purchase.
About this Album
Recorded in venues and studios - Melbourne and Sydney, Australia March-November 2009.
Dan O'Brien - Words, Vocals, Harmonica, Keys.
Chrissy Morgan, Stevie Stylers, Dave Sitario and Mike Bacich - Guitars.
Paul Wagorne and Steve Aliane - Keyboards.
John Murray and Stevie Stylers - Bass.
Liam Grey, Dan O'Brien and Ontanio Redfurn - Drums, Percussion Programming.