Top of Page
Grace Notes by The Thieving Gypsy Bastards (2009) The Thieving Gypsy Bastards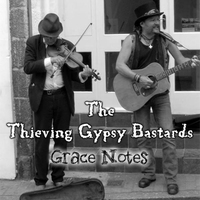 The following audio file formats are included with purchase:
FLAC:

16/44,100

MP3:

192 kbps (VBR)

Apple Lossless (ALAC) and WAV files provided, too!
360 x 360 pixel album cover included with any song purchase.
About this Album
The 'Bastards' can often be found in Cornish St. Ives, always with instruments in hand and never far from a beer.
Their gigs are renowned and they wanted this album to reflect the madcap musical adventure that seeing them live takes you on. A mixture of original songs and covers of well-loved classics, this is definitely one for the well ale-ed folky.