Top of Page
New Songs of Kernow (A small collection of songs by local artists inspired by Cornwall) (2009) Jordan Jackson Music (Producer)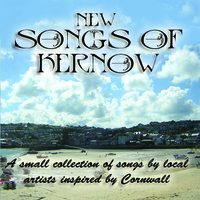 The following audio file formats are included with purchase:
FLAC:

16/44,100

MP3:

192 kbps (VBR)

Apple Lossless (ALAC) and WAV files provided, too!
PDF liner notes ("CD booklet") included with full album purchase.
360 x 360 pixel album cover included with any song purchase.
About this Album
This 7 track compilation features well known artists from around the South of Cornwall all performing material that has been inspired by the local area.
From the grooving rock of Oracy through to the majestic words of poet Alan Shepherd, the haunting melody of Andrew Bate to the traditional Cornish folk roots of the Brothertons there is something here for everyone, and each track oozes a distinct taste of Kernow.
For ever music lover who has ever been to, or would like to visit, the unique county of Cornwall.