Top of Page
Pa Fe-m Sa Konsa (1995) Princess Anna Pierre (The Singing Nurse)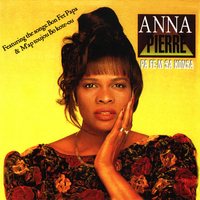 The following audio file formats are included with purchase:
FLAC:

16/44,100

MP3:

192 kbps (VBR)

Apple Lossless (ALAC) and WAV files provided, too!
1492 x 1492 pixel album cover included with any song purchase.
About this Album
This mixed of Rock, Haitian Compas Rhythm, R&B and Zouk - accentuated by the singer's great vocals and chorus lines, gives this Album a unique appeal.
Song # 6 - Bon Fet Papa " Happy Father's Day" is a well deserved tribute to our fathers. Princess Anna Pierre wants to remind us that After all: " It takes a man to be a father, but a special man to be a daddy "
* This is the link to the VIDEO of "Bos Fetout" The Handyman -
The humorous Track # 1 www.youtube.com/watch?v=5bxuFy59gEU
* Though the lyrics are in Creole, English translation is provided.