Top of Page
Nothingness (2009) Val Goldsack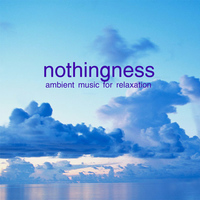 The following audio file formats are included with purchase:
FLAC:

16/44,100

MP3:

192 kbps (VBR)

Apple Lossless (ALAC) and WAV files provided, too!
PDF liner notes ("CD booklet") included with full album purchase.
721 x 718 pixel album cover included with any song purchase.
About this Album
A collection of quiet ambient tracks, soft instrumental music which is perfect for background while working, reading a book, and general relaxation, also suitable for yoga & pilates.