Top of Page
1000psi (2009) 1000psi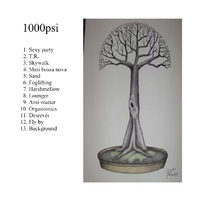 The following audio file formats are included with purchase:
FLAC:

16/44,100

MP3:

192 kbps (VBR)

Apple Lossless (ALAC) and WAV files provided, too!
512 x 512 pixel album cover included with any song purchase.
About this Album
Self-titled debut album.

Groovy and hypnotic, deeper darker experimental electronic, chillout and lounge music. Instrumental music, perfect for production placement such as film, tv, video games, corporate video and any other project that requires moving and descriptive background soundtracks.