Top of Page
Greatest Thing I've Ever Learned, The (Original Release) (2007) Alpha Rev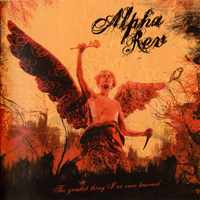 The following audio file formats are included with purchase:
FLAC:

16/44,100

MP3:

192 kbps (VBR)

Apple Lossless (ALAC) and WAV files provided, too!
PDF liner notes ("CD booklet") included with full album purchase.
1417 x 1417 pixel album cover included with any song purchase.
About this Album
The original release of Alpha Rev's first full-length album.

This release contains several tracks that are not included on the re-released/re-mastered record, including the acclaimed track, "Phoenix Burn", as well as "When Did I Wake Up", "Star of Wonder", and "Get Out".